Females
Ch. Hardy Line Hanami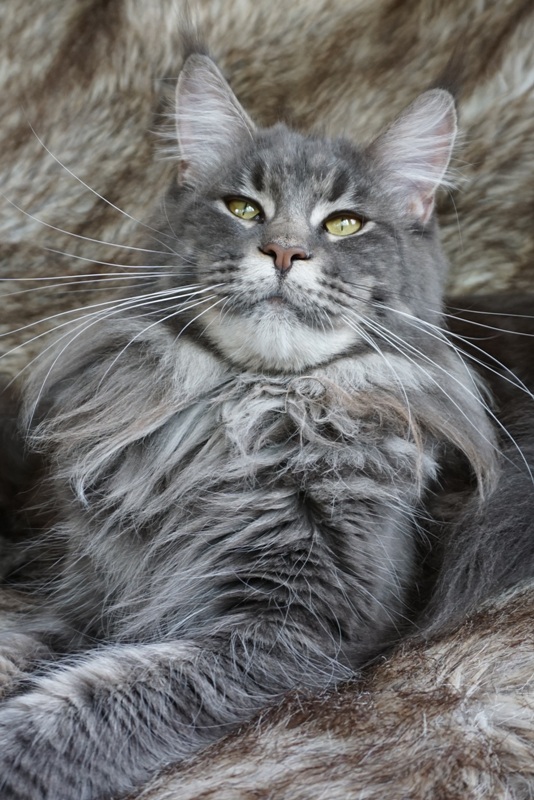 Date of birth: 26.02.2014
Color: blue blotched tabby (MCO a 22)
Father: Gr.Euro.Ch. Hardy Don COON*RU
Mother: Gr.Int.Ch. Coonung Lillevi
Title: Champion WCF
Breeder: Ivaschenko I.
Owner: Lapshina T.
Hanami - beautiful lady who knows her own worth! She is a big cat with a strong chin and very large paws. Hanami is always very busy; all the time she has something to do, even when the rest of the pride is asleep.
Perhaps that is why she considers herself the most important, she never misses the moment to give blows to everyone, if she thinks that they are wrong.
Сh. Gabriel Bernard of Caterham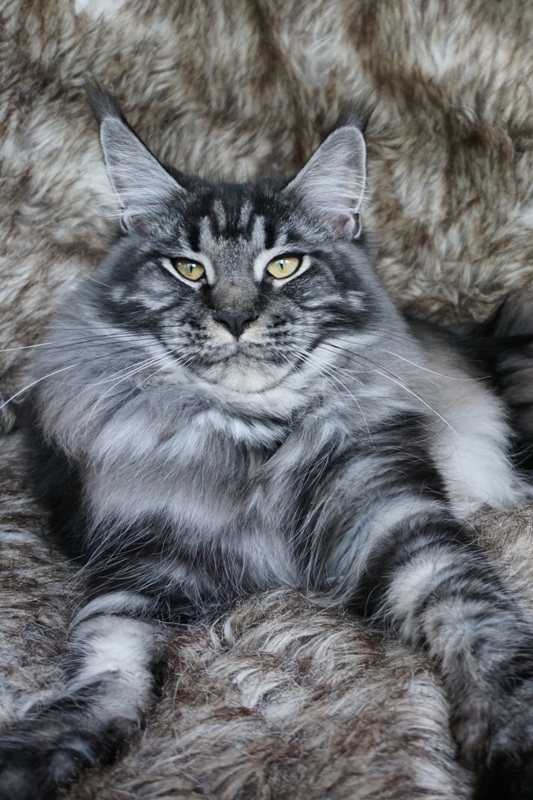 Date of birth: 01.11.2014
Color: black silver blotched tabby(MCO ns 22)
Father: W.Ch. Efrat Stars Quality
Mother: Vilarokiss Gyusha Garbo
Title: Champion WCF
Breeder: Molchanova O.
Owner: Lapshina N.
Gabi - our little star, during her first exhibition when she was only 7-month baby, Gabi became Best Junior and Best Breed Representative in Maine Coon special show in a big competition, beating adult males and females.
Our girl is often confused with a male, as she has her "wild" appearance and a very serious look. Gaby is quiet by nature, but she is "dark horse": you never know what is on her mind.
GranPatron's Q-Nizza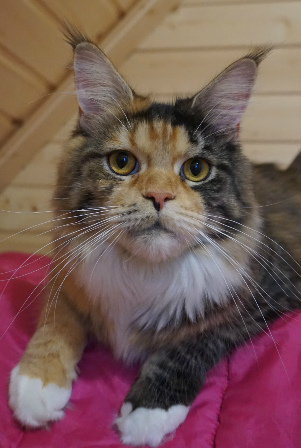 Date of birth: 30.12.2015
Color: black mackerel torbie with white (MCO f 23 03)
Father: Belmicoon's Iron Raven
Mother: Z-Chocolate Saltus Zahrabske
Title:
Breeder: Morozova E.
Owner: Lapshina N.
Kuma - is charming colorful young lady!
She has excellent ears, massive box and a beautifully distributed tortoiseshell color. Kuma has an easy character and never participates in cats' wars and just enjoys her life.
She is great companion and always invents new ways to play.